Handcrafted Portuguese Knitting Pins by CC&A Designs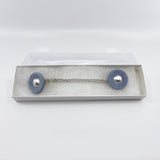 Each of these one of a kind hand crafted Portuguese Knitting Pins by CC&A Designs are created with a combination of new and repurposed elements.
In additional to being fun fashion accessories, these hand made knitting pins feature a hook with a ball end to help tension your yarn when knitting.  Some also feature a long cord so they can be worn as a necklace or a pin.
These are one-of-a-kind items; when our current stock is sold we will receive a new shipment with new designs.  Please make sure to chose the item you would like from the drop down and not from scrolling through the images shown, this will insure that you are looking at the right image for the style selected.
For size reference, the jewelry boxes shown are 4" x 4". Sizes of the individual Portuguese Knitting Pins vary due to design elements.
For custom or bulk orders contact us through our contact us page.
More from this collection