SampleIT Loom 40cm - with double heddle sides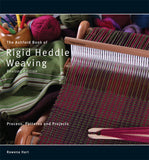 This popular loom is 40cm (16").
The Sampleit looms are inexpensive, compact and cute without sacrificing function and are ideal for new and experienced weavers alike. Whether you are learning to weave for the first time, want to learn new techniques or sample your wonderful yarns, this loom is fun and easy to use. Just add yarn!
Features
Natural timber finish
Portable and lightweight
Built-in second heddle option
Extra reeds available in 6 sizes
Specifications:
finish
natural
assembly
required
Weight
1.7kg (4lb) - 40cm
weaving width
40cm (16")
Included Accessories
7.5dpi (30/10cm) reed
2 x natural shuttles: SL40 - 46cm (18")
- Threading hook
- Warping peg and clamp
- Step-by-step instruction booklet
Some images show an optional loom stand sold separately.
More from this collection