Ross DK - Rainbow Lorikeet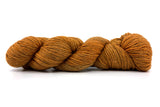 Hardwearing luxury, this 50% Bison (American Buffalo) and 50% Muga Silk yarn is one of our favorite yarns. The Bison down will stand up to a lot of wear while the silk will cool the fiber down and add a softness to your finished garment. The Bison starts out rather rough to the touch but will soften overtime and bloom with a beautiful halo. For a quicker path to a softer yarn see our care instructions below.

This beautiful semi-solid color contains shades of red, orange, yellow, blue, green and gray; it is a standard color by The Fiberists. Ross DK is a limited run collection and quantities are limited. Colors may vary from what they appear on your screen, dark tones may appear darker and blacker on your screen. Every effort has been made to ensure colorfastness.

For the initial wash, finished items created from this yarn are recommended to be machine washed on cool on a regular cycle with jeans to help agitate the bison down and artificially induce wear. This will mimic the effect that would occur after wearing for a number of seasons; without enough agitation the garment may not be as soft as desired, if this is the case we recommend additional washes until it reaches the desired hand. The machine washed garment should be air dried flat. After the initial wash cycle is complete we recommend future washes be hand wash only. While this yarn is 50% Bison (American Buffalo) and 50% Muga Silk and will not felt, longterm machine washing can lead to woven in ends coming out, joins separating, and a general decrease in longevity of the project. The Fiberists recommend all projects be hand washed to ensure longevity.

Colorway Name: Trichoglossus moluccanus - Rainbow Lorikeet
Fiber collection: Ross DK
57g (2 oz) / 200 yards of 50% Bison (American Buffalo) / 50% Muga Silk DK Weight Yarn.


All weights and measures are approximate.

All yarns from The Fiberists are shipped as skeins.
More from this collection