1.25" Fiberists Pin Glow-In-The-Dark White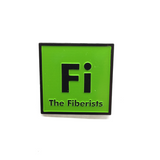 We designed our logo to invoke thoughts of science, chemistry, and of course the periodic table of elements. Since there isn't an element that uses the Fi symbol, we like to say it's the "Element of Fiber."
These Soft Enamel pins are made out of black dye metal and are approximately 1.25" X 1.25" in size.
They have 1 pin post and come with 1 rubber back.
They are available in Red (Pantone 185 C), Orange (Pantone 144 C), Yellow (Pantone 102 C), Green (Pantone 361 C), Blue (Pantone 2995 C), Purple (Pantone 2572 C), Pink Glitter (Pantone 219 C), and White that Glows in the Dark (phosphorescence).
Choose your favorite color, or pick up a full set. Either way, these will make a great addition to your enamel pin collection!
The Fiberists can not be responsible for lost pins. If you display your pins on a project bag, we recommend replacing the rubber backs with locking pin backs. 
More from this collection