Benerito Poonies - 100 g - Diamond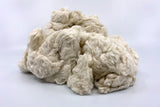 These 100% Cotton Poonies are made by hand in India and are perfect for spinning on your Charkha, supported spindle, or wheel. These cigar shaped rollags are hand rolled tightly around a wire which produces a tighter firmer rollag that will not fall apart when spinning.  These are then bundled together in a paper bundle and tied with cord before being shipped to us.  We love spinning these Poonies on our Charkha because they are much tighter packed than the average rollag produced on a hand carder and we find that  we can spin them right out of the package without any additional preparation.  Note, cotton can be a harder fiber to spin for those with less experience,  so if this is your first time spinning cotton be prepared to lose some fiber to the learning process.
This natural top is a light cream color; it is a standard color by The Fiberists and is available for on demand ordering. Colors may vary from what they appear on your screen.

Finished items created from this top are recommended hand wash only. While this top is 100% cotton and can tolerate agitation while wet without felting, The Fiberists recommend all projects be hand washed in cold water to ensure longevity.
100 grams (3.5 ounces) of 100% Cotton Hand Rolled Poonies.
All weights and measures are approximate.
More from this collection