Einstein - 2 oz - Specimen 514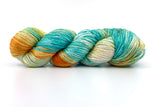 Silky and fluffy, this 70% Mohair and 30% Nylon yarn is perfect for pops of color and texture when held double with another yarn. It can also be used on its own to create an airy textured garment with a halo. This is very popular in weaving and knitting.

This beautiful variegated color contains shades of green, blue, purple, red, yellow, and white; it is a color experiment by The Fiberists and is available in limited quantities. Colors may vary from what they appear on your screen, dark tones may appear darker and blacker on your screen. Every effort has been made to ensure colorfastness.

Finished items created from this yarn are recommended hand wash only. As this yarn is 70% Mohair and 30% Nylon it cannot tolerate agitation while wet. The Fiberists recommend all projects be hand washed to ensure longevity.

Fiber collection: Einstein
57g (2 oz) / 550 yards of 70% Mohair / 30% Nylon Lace Weight Yarn.


All weights and measures are approximate.

All yarns from The Fiberists are shipped as skeins.
More from this collection